Warning - One of our newly-hired interns is a full-on gypsy. Not only can she pick your pocket, she also has an uncanny ability to predict your future.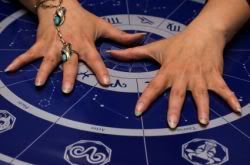 Aries - Work isn't interesting, and a lazy mood might take hold. Remember, your boss keeps a bottle of scotch in the bottom drawer.
Taurus - A friend, or someone close, will make uncomfortable demands on your french poodle Skippy.
Gemini - Put away those rose-colored glasses girl friend, and try to see the situation as it really is - your man is gay.
Cancer - Emotional problems on the job are possible. Still, the night ahead holds promise. But only if you order up a pizza and a hooker
Leo - You will find relief tonight, especially if you give in to the voices and kill a stranger
Virgo - This is a good day to toss out what you no longer need. Leaving the kids with a drunken clown would be a good place to start.
Libra - Mars may provoke your friends to air their grievances. Ah, who're we kidding here? You don't have any friends.
Scorpio - This week you'll feel like you're in a pressure cooker. Just take a deep breath and jump off that ledge.
Sagittarius - Don't wait until the end of the day to masturbate. You will be struck by a car and killed on your way home from work.
Capricorn - You have deep feelings, and can be super-sensitive. Get over yourself. No one cares.
Aquarius - Learn to follow your curiosity. Glory holes can be fun.
Pisces - New things keep emerging. You will be challenged to grow, and learn when an old man exposes his penis on the ride home from work.