Munich 10/31 – BREAKING NEWS!
Kristina Dimitrova of Bulgaria narrowly backed down 42 finalists from 26 different countries today to win 10,000 euros, a prestigious modeling contract, and the title of "World's Most Beautiful Bottom."
Like the Olympic games, this is a contest steeped in tradition. And several keen observers were surprised at this year's outcome.
While Bulgaria regularly dominates the world of weightlifting, it's not really known for ass. Indeed, most connoisseurs will tell you Bulgarian butt is more of an acquired taste, like French ass, which is often hairy and smells of mime.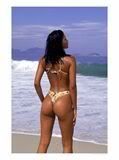 For decades Brazil has been home to the some of the finest asses in the world. And many feel they should have won again.
But the Brazilian contender, Alita Santiago from Rio, was tossed out of the contest when a routine cavity search revealed a large plantain.
Experts say the practice of "stuffing" originated in Russia. It's common knowledge that flat-assed Russian women will use SMOKED RYBETS to enhance their pasty bottoms. The effect is similar to corking a bat in baseball.
In a freewheeling interview with Daily Distractions, Ms Santiago claimed she had no idea there was a plantain up her bum. She thought it was a dietary supplement that had been recommended by her coach.
America fielded a pair of strong contenders this year. Hailing from Alabama, Tiffany and her hot step-sister Brittany dominated the talent part of the competition. The fleshy ladies put-on a scorching lesbian routine that had every male in the audience reaching for the Vaseline.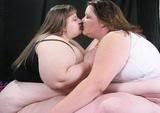 Ah, but it was not to be for the plucky duo, who told Daily Distractions they dearly wanted a win to bolster America's sagging image around the world.
Always the fluff girls, never the stars, the Americans will have to be satisfied with their consolation prize, "World's Biggest Asses," and a lifetime supply of Honey Dew Doughnuts.
On the net – China View Awesome Asses (video)