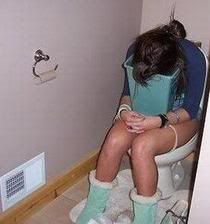 Sure, I know what you must be thinking, how does a man like me score a hot girlfriend like this?
She is hot isn't she? But she's not really my girlfriend. She's just some chica I picked-up at a party. The other girls were calling her Sidosa – whatever that means.
I haven't heard anything from her since I snapped this picture. I sure hope she's OK. Maybe I should go in there and see what's up.
I don't know, Latinas are so hard to read. I'd hate to bother her and foul the mood. She promised to let me videotape her having sex.
She's probably just washing the vomit out of her sweater and re-applying lipstick. You know how anal these Latinas are about their hygiene. And they get so freakin' testy when they think they're being rushed.
Not that any of it matters. I popped 2 Viagra, and I plan of doing her from behind. Tonight she could look like a burro and I wouldn't care.
Anyone know how long I'm supposed to wait to sex up a girl after she vomits? Is it one hour? Or two? I'd hate for the poor dear to cramp up.
I swear, it sounded like she was giving birth to a walrus in there. I hope she's not too tired from all the retching and crying to stay awake. I hate it when they just lay there slobbering with their eyes shut.