Panama City Panama – Drinkers, dancers, and fornicators along Calle Uruguay were overcome by terror and violent nausea last night, not long after a gringo began dancing spasmodically at a local club.
The gringo, in from Dallas Texas for a two week vacation, calls himself Digger Ryan. He's described by witness as being "completely oblivious" to the fear and loathing his uncoordinated, sweaty body provokes.
Digger, a convenience store clerk, and avid collector of Elvis memorabilia, spent most of the evening pounding down beer, talking loudly about the "good old U S of A, and grinding on several local girls, "without any sense of shame."
Onlookers say he also burped repeatedly, passed gas, and sang along to Justin Timberlake's "I'm bringin' sexy back," causing many of the club's patrons to seek immediate medical attention.
"I couldn't believe it. I've seen Noriega's dignity battalions beat people bloody, I've seen boa's crush and swallow small children whole, I've seen fishermen torn apart by hungry crocodiles, but this – this was just vile," said Alida Mendes of Gamboa.
Several thousand natives stormed the office of Tourism and Salsa Minister Ruben Blades today to register their formal complaints. "Jes look at 'im. Dese fat, white devals worse than Colombian," said Eva Prado a Jamaican down from Colon.
According to the Guardia who were called to the scene, any attempts to arrest Digger proved problematic. "He big man. He really sweat and move funny. We just couldn't grab hold to him."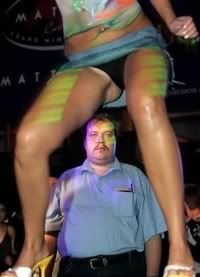 "We've seen this before."
In the wake of last night's near tragedy, President Martin Torrijos is advising everyone to remain calm. "We've seen this kind of thing from the gringos before," he said.
Perhaps, but not since vacationing security guard Rollie White became hypnotized by a local dancer's thong covered vadge have we seen anything on such a terrifying and creepy scale.
Torrijos said that while Digger was in town residents should stay close to home, and keep their daughters out of the clubs and discos where they may get sucked into the funky gringo's gravitational field.