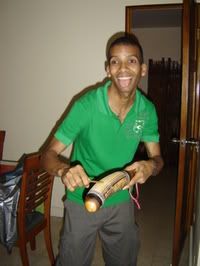 Panama City Panama – This week beloved churuca player Jorge Tapa, famous for his spirited rayando coco, was attacked and killed alongside Miraflores, the Pacific part of the canal. This is the second fatal crocodile attack in Panama this year.
In a free wheeling interview with Daily Distractions, animal experts from the Smithsonian Tropical Research Institute in Gamboa, said the excited crocodile was not at fault, claiming Jorge led the animal on with a saucy display.
"That croc had every reason to think Jorge wanted to be eaten." said Dr White. "Have you seen Jorge move that lean bronze body to Panama's tropical beat? Who wouldn't want to eat him?"
Public opinion throughout Panama is split. Some believe that eating a man like Jorge is never justified. Other, more liberal natives, are saying churuca players give off mixed signals.
"I really think some of them want to be eaten." said Maria Jesus. "All that noise they make. What's a cold blooded reptile to think?"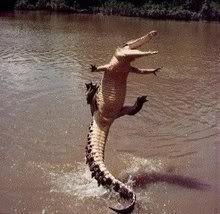 "We need to ask ourselves who's the real victim here?" said a government official, who asked to remain anonymous. "A lazy Cholo like Jorge, or those hard working lizards struggling to control Panama's stray dog, and gringo population."
The government has said it does not intend to kill the croc. But it has warned tipico musicans, and Ruben Blades to be especially careful around the Panama Canal.
News of the popular churuca player's violent death has also stunned the gringo community.
"Look, I'm sorry, its not like I wanted Jorge to be eaten," said tourist Bill Jenkins, "But I'm already paid up for a month's worth of Churuca lessons, and the fuckers somewhere at the bottom of the Panama Canal. Now who's going to teach the class?"