Death has stalked the cast of Jaws since the movie's release in 1975. And last week it was actor Roy Scheider's turn to pass. The official word is he succumbed after a lengthy and courageous battle with multiple myeloma. But there are rumors police seek Richard Dryfuss for questioning in this matter.
No matter how he died, Scheider probably went down swinging. Bravery was not out of character for Roy Scheider. He was a fighter. That's how he got the broken nose.
Scheider was also known for courageously pimping out Jane Fonda in the movie Klute, and bravely banging dancers in All That Jazz. He garnered academy award nominations for the French Connection and All That Jazz. But insiders claim that it was during the filming of the movie Jaws that a jealous Richard Dryfuss hatched a sinister plan to kill off Scheider and his co-stars.
In that flick Scheider played a small-town police chief and reluctant shark slayer who uttered the now famous line, "you're going to need a bigger boat." That line made it to 35th on the American Film Institute's list of best movie quotes. But it's said to have infuriated Dryfuss, who thought his character should have said it.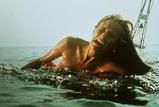 Now Roy's gone. Before him crusty co-star Robert Shaw, several bikini-clad girls swimming off Martha's Vineyard, and the charismatic shark known affectionately as Jaws. There is something fishy about all these actors passing in their prime. And we will not be surprised to learn that Richard Dryfuss, known as a small and petty man, is responsible for their untimely deaths.
On the net – Guardian