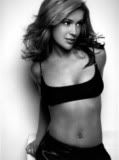 It's fitting that the music of celebrity train wreck Britney Spears was chosen to be the back drop for this sexy video. Alyssa Milano was also a lolita-like child star who blossomed into a tattooed freak. She stripped down to pose for FHM, Stuff (by Maxim), and participated in some naked girl on girl action in the horror movie "Embrace of the Vampire."
Indeed, her nude pics are all over the net. The big difference is that Alyssa has become a successful adult. She's well known for the time and money she donates to charitable organizations around the world. Britney, on the other hand, is well known for flashing her bald vadge, porn, abusing drugs, and being an unfit mother.
Oh, and I understand she sings a bit too.
On the net –Alyssa Milano Nude