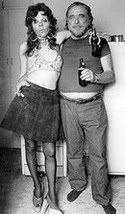 The other day a friend looking over my collection of used books said – "What's with all Bukowski? He wasn't that great a writer."
Maybe not. But at the end of the day, the only thing Buk wanted was to write, drink, gamble, and fuck. And I can relate to that.
If you haven't read Charles Bukowski, you should. Consider this next clip, featuring a hot stripper, Matt Dillon, and some damn fine writing, as your introduction to the Bukowski ethos.
Video taken from "Factotum" …