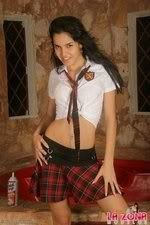 "Cojito – what do you have against the Catholic Church?"
I know. Mocking the religion that gave the world sexually repressed teen girls in short plaid skirts is like chewing off the nipple that feeds me.
Certainly we can credit this pedophile/S&M cult with a pant-load of our kinky fetishes. Smother the human sex drive for a few thousand years and you can't help but end up with a population preoccupied with sex. So I salute them for that. Really, that alone should get most of the clergy into heaven.
But there's a more sinister side to this Jesus business. I could tell you I mock them because Catholics and their imaginary friends are silly, or because I've read a little about the inquisition, the witch burnings, the wars started and endorsed, the obscene wealth, yet tax free status, the self-flagellating, anti-gay, anti-woman, anti-sex, anti-Jewish, anti-science, anti-human lunacy …
but mostly, it's because of the boy fucking.
On the net – No Beliefs