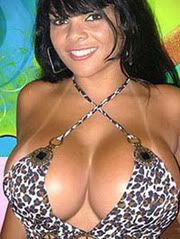 One day, when I was still a wee lad, I hopped a Greyhound to Boston's Combat Zone, and snuck into a porn movie entitled "Deadly Weapons." The movie featured a nasty old stripper (Chesty Morgan) who'd smother men with her massive teats.
To this day I avoid women with big breasts. So naturally, I'm finding the Sheyla Hershey brouhaha particularly alarming. If you haven't heard, the interweb's hissing like an angry boa over 28 yr old Sheyla Hershey's desire to get bigger breasts.
Why the fuss? Well, it turns out Sheyla has already had 8 surgeries on her mammary glands, and has dumped over 4 quarts of silicone into each breast. Her breasts are reported to be a back breaking, man killing FFF.
That makes her the record holder*. But some folks think Sheyla's taking this too far. And they site a little known law that limits the amount of silicone one can add to the breasts before it becomes a health hazard. Gamely, Sheyla vows to press on.
"I want to look better each day, every day," she told the serious journalists over at FOXNews.com. "Everybody's got a dream inside, you know? And, it's good when you can make your dream come true."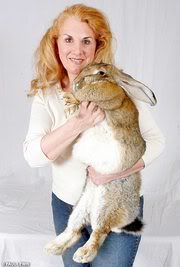 How brave. Critics claim America has lost it, that this great nation is about to implode. But here's ample proof that the American spirit is alive.
I think we can all understand, even admire a young American woman fighting for ginormous sweater pillows. Her tale is inspirational – like the Helen Keller story.
Contrast this with the so-called "civilized" British. Now here's a culture that has surely lost the plot. The Daily Mail is reporting that a Brit has conjured a rabbit so big it eats $10 a day in food, and by my estimation could easily smother a man in his sleep.
Oh, that way madness lies
On the net – Daily Telegraph • Daily Mail
*Some would argue George Bush is the world's biggest boob.