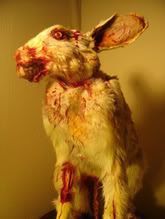 Looking for something to top that chiffonier your in-laws gave you last Christmas? Why not pop into the virtual home of the rogue taxidermist?
Sure, the exploding frog has already been sold. But there's still plenty of cool stuff available. For example, the lower half of a squirrel can still be yours for a only $150.
Or how 'bout an item with a bit more flash? Something that simultaneously says – fuck the in-laws, and I've got way too much money on my hands.
Try the Half-Eaten Holstein: only $1,895.00