"… the clothes that he wears, the way he comes his hair, he's just that funky Blax-i-can"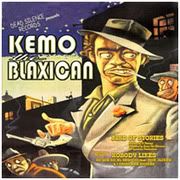 You might remember Kemo the Blaxican from Delinquent Habits. Back in the day the group laid down a sick track called "Tres Delinquentes," an eye-popping bong hit of old school mariachi and dark hip-hop.
Then Kemo, who calls himself Blaxican because he's black and Mexican, took his bilingual act solo, releasing an album called "Simple Plan. The shit's tight. As if Funk, Samba, Jazz, Salsa and Soul were all rolled into one big-ass joint.
Two songs really stand out, "La Receta" (sidebar), and "Nobody Likes" (below), which features the sexy and soulful Monica Ortiz. Grab the headphones give Kemo a taste after the leap …
On the net: Kemo the Blaxican