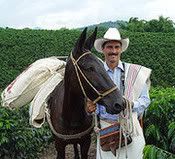 "When you are lying about your name, you've lost all of your credibility." Arizona Rep Chad Campbell.
According to the Arizona Republic, John Valdez, democratic candidate for the Arizona State House, is actually Hispanic immigrant Juan Valdez. I guess that means John could be a big liar.
Nothing wrong with that of course, some of my best friends are liars. In fact, I had one doing my lawn until he was swept up by the authorities. But why assume the worst? Here's a man who left behind his beloved burro and thriving coffee business to chase the American Dream.
Juan says he changed his name because he's fully assimilated into America. One of his opponents, Representative Chad, says it's because Juan is hiding a dark criminal past. The smoking gun? Nine years back Juan got well and truly pissed and fired a pistol into the air.
Dubious ethnicity, lying, liquor and firearms … I think Chad may owe the man an apology. Clearly Juan has assimilated. You can't get any more American than that.
On the net – Azcentral