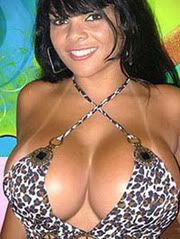 One day, when I was still a wee lad, I hopped a Greyhound to Boston's Combat Zone, and snuck into a porn movie entitled "Deadly Weapons." The movie featured a nasty old stripper (Chesty Morgan) who'd smother men with her massive teats.
To this day I avoid women with big breasts. So naturally, I'm finding the Sheyla Hershey brouhaha particularly alarming. If you haven't heard, the interweb's hissing like an angry boa over 28 yr old Sheyla Hershey's desire to get bigger breasts. Read the rest of this entry »
Panamanian health officials, vilified for allowing poisoned medicine to kill several hundred natives, have adopted strict new product standards for 2008.
Beginning this year the breasts of all Colombian strippers, hookers, and escorts will need to be 80% natural. That means many will be required to limit or reduce their cup size.
"We can't bring those poor bastards back from the dead." said Abner Balbina, a senior health official. "Nor will we compensate their grieving families for the loss. But if they were alive, I think they'd be happy we're doing this."
David Ortiz is the manager of the Cristal Moon gentelmans club. He said he understands the concern.
"Colombian girls have a huge competitive advantage over their small breasted counterparts. They make great money, and find the married men easy pickings."
In an effort to head off the government, and ease fears in the local community, some of the strip clubs and whore houses have gotten together and agreed to a cap.
"We hope to show the government we're committed to fairness, purity, and quality," David said.
No longer will tourists be able to find shelter from the hot Panamanian sun underneath a Colombian illegal's swinging teats. Club and brothel owners will now enforce a 1 cup rule. That means a Colombiana can only go up one cup size. Anyone with larger breasts must get down to the 1 cup limit.
Many Colombian women are angry about the changes.
"I was an A cup. I make my best money as a full C. If I'm forced to go down to B, I'll be back out on the street. How I feed my 7 babies?" said Jasmine, a stripper at Midnights.
"Every girl in Central America has small breasts. How I get rich gringo if I look like them? Who to pay for my blower and lottery tickets?" said, Zina, a private escort.
"We understand their fears. But we're worried about the integrity of the sex business in Central America." Abner said. "Enormous fake breasts are a lie, an unnatural competitive advantage. Our gringo mongers, and privileged elite pay top dollar for finest natural breast meat."
Carmen Chavez a visiting Tico thought the new measures made sense. "I think limiting their breast size is a good place to start. But next we need to cut back on all that Colombian ass."
On the net: A Trail of Poisoned Medicine