That's what my ex was calling this flick when she sent it over – the best pussy video ever.
I think maybe she's taking an ironic piss. You men are so obsessed with sex and porn, she is saying, but this is the kind of porn we women are into. Ha ha! Read the rest of this entry »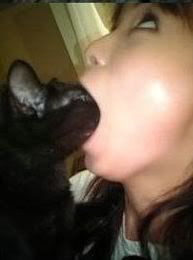 It's been reported that the Japanese aren't having all that much sex. They average a lamentable 34 encounters a year, and only 10% of Japanese women claim to be satisfied with their sex lives.
Perhaps that's why they've moved on to cats.
For you PETA people, these pussies appear to have been asking for it. That's the thing about cats, they're filthy little animals, who'd like nothing better than to have an Asian chick suck on their tasty heads.
I suppose there will always be something hot about a freaky girl who'd lick the hind quarters of a cat. Not that we should be surprised this fetish has evolved. Lord knows, it must be preferable to sucking Japanese men.
On the net – Japanese Cat Eaters