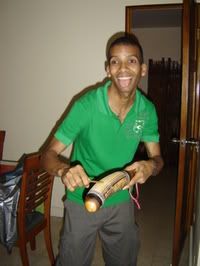 Panama City Panama – This week beloved churuca player Jorge Tapa, famous for his spirited rayando coco, was attacked and killed alongside Miraflores, the Pacific part of the canal. This is the second fatal crocodile attack in Panama this year.
In a free wheeling interview with Daily Distractions, animal experts from the Smithsonian Tropical Research Institute in Gamboa, said the excited crocodile was not at fault, claiming Jorge led the animal on with a saucy display.
"That croc had every reason to think Jorge wanted to be eaten." said Dr White. "Have you seen Jorge move that lean bronze body to Panama's tropical beat? Who wouldn't want to eat him?"
Public opinion throughout Panama is split. Some believe that eating a man like Jorge is never justified. Other, more liberal natives, are saying churuca players give off mixed signals.
"I really think some of them want to be eaten." said Maria Jesus. "All that noise they make. What's a cold blooded reptile to think?"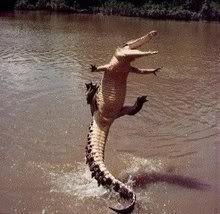 "We need to ask ourselves who's the real victim here?" said a government official, who asked to remain anonymous. "A lazy Cholo like Jorge, or those hard working lizards struggling to control Panama's stray dog, and gringo population."
The government has said it does not intend to kill the croc. But it has warned tipico musicans, and Ruben Blades to be especially careful around the Panama Canal.
News of the popular churuca player's violent death has also stunned the gringo community.
"Look, I'm sorry, its not like I wanted Jorge to be eaten," said tourist Bill Jenkins, "But I'm already paid up for a month's worth of Churuca lessons, and the fuckers somewhere at the bottom of the Panama Canal. Now who's going to teach the class?"
Police say an area woman found a winning lottery ticket under the mutilated body of dead hooker today.
Carmen Herrera, a maid working out of Punta Patilla, said she was shocked to discover the ticket while walking her employer's dog.
"Ay, dios mio – I no can believe. I was walking Rex, and he to crap there, on sidewalk. He sense something wrong, he be barking, very loud. And there it was, in bushes, under that dead puta. Gracias a Dios, I am so happy right now."
Police remain puzzled how the ticket got there. "We're looking into it you can be sure of that," said Sargent Diaz of the PTJ. "Its not everyday one of our citizens finds a valuable lottery ticket under a bloody prostitute."
The body of the dead whore was covered in blood and semen, and had cocaine residue around her nose, but it did not appear the winning numbers were obscured in any way.
"No way, it was pristine. She's one lucky girl."
Earlier police taped off the area and began searching for more lottery tickets. The hooker could not be identified, but her hair was bleached blond, and she'd had recent breast enlargement, so it's assumed she was a Colombian illegal.
"It would be hard to imagine anything more wretched," said Sgt Diaz. "I have two daughters, and losing a winning lottery ticket would be crushing. We will be analyzing the numbers. They could be the key to this mystery."
Cops continued to comb the area throughout the day, but did not find any more mangled prostitutes or tickets.
"It's early in our investigation, but I'd say she was about 19. Forensics will need to take a look at it, but judging from the wear patterns the ticket was purchased earlier in the week."
"It may have floated down when the whore was thrown off one of the upper balconies into the shrubbery below. It's possible whoever lost the ticket may live in that high rise. If we find them we'll want to get the ticket back to them as soon as possible."
The police will be going door to door asking locals if they've seen any killers, or lottery winners about.
"Something like this should give everyone pause" said Father Sanchez, a local parish priest. "It's natural to blame yourself. It's easy to say, if only I was there a little sooner then I could have picked up the winning ticket. But you can't fault yourself."
The church has opened its doors, and area psychologists are standing by to counsel anyone traumatized by not finding the wayward ticket. If the rightful owner is not found Carmen plans to take the ticket down to the Loteria National to claim her $80 winnings early next week.
"It's like an early Christmas present," she said.
Panama City Panama – Drinkers, dancers, and fornicators along Calle Uruguay were overcome by terror and violent nausea last night, not long after a gringo began dancing spasmodically at a local club.
The gringo, in from Dallas Texas for a two week vacation, calls himself Digger Ryan. He's described by witness as being "completely oblivious" to the fear and loathing his uncoordinated, sweaty body provokes.
Digger, a convenience store clerk, and avid collector of Elvis memorabilia, spent most of the evening pounding down beer, talking loudly about the "good old U S of A, and grinding on several local girls, "without any sense of shame."
Onlookers say he also burped repeatedly, passed gas, and sang along to Justin Timberlake's "I'm bringin' sexy back," causing many of the club's patrons to seek immediate medical attention.
"I couldn't believe it. I've seen Noriega's dignity battalions beat people bloody, I've seen boa's crush and swallow small children whole, I've seen fishermen torn apart by hungry crocodiles, but this – this was just vile," said Alida Mendes of Gamboa.
Several thousand natives stormed the office of Tourism and Salsa Minister Ruben Blades today to register their formal complaints. "Jes look at 'im. Dese fat, white devals worse than Colombian," said Eva Prado a Jamaican down from Colon.
According to the Guardia who were called to the scene, any attempts to arrest Digger proved problematic. "He big man. He really sweat and move funny. We just couldn't grab hold to him."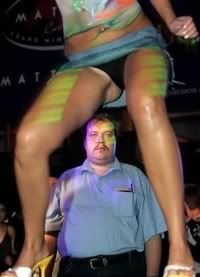 "We've seen this before."
In the wake of last night's near tragedy, President Martin Torrijos is advising everyone to remain calm. "We've seen this kind of thing from the gringos before," he said.
Perhaps, but not since vacationing security guard Rollie White became hypnotized by a local dancer's thong covered vadge have we seen anything on such a terrifying and creepy scale.
Torrijos said that while Digger was in town residents should stay close to home, and keep their daughters out of the clubs and discos where they may get sucked into the funky gringo's gravitational field.